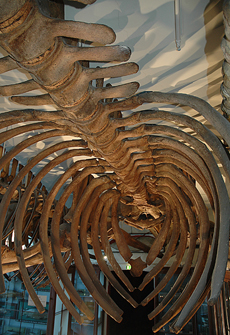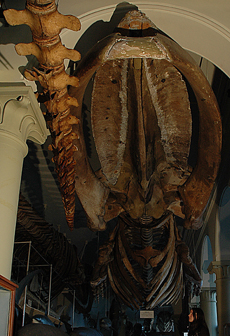 On these pages you will find general information on the Whale Exhibit at The Natural History Collections, Bergen Museum and on the biology of whales.
Our exhibition of whale skeletons is one of the worlds largest in its kind, and it was mounted during the end of the 1800 - and the beginning of the 1900s. All in all there are 22 complete skeletons and 3 skulls from 18 different species. Most of the species found in the Northern Atlantic are thus represented.
The whale skeletons make a great impression on visitors. They are exhibited hanging from the ceiling in two different halls over a total of ca. 300 square meters. Eleven skeletons are over 5 m long, with the 24 m long Blue Whale as the largest.
Choose the language you want to use here.